Panel discussion to explore how to raise rates without losing customers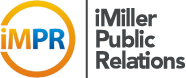 New York – February 28, 2023 –  iMiller Public Relations (iMPR), an award-winning consulting and Public Relations firm for the global digital infrastructure industry, announces today that Ilissa Miller, Founder and Chief Executive Officer, will participate on a panel at WISPAmerica 2023. The event is taking place March 6-9, 2023 at the Kentucky International Convention Center in Louisville, Kentucky. Ilissa has over 25 years of experience in the digital infrastructure sector and is a sought after advisor. iMPR offers cutting-edge strategies to companies including Data Center Operators, Internet Exchanges, Interconnection Platform Enablers, Edge Computing, Global Networking and more.
On Wednesday, March 8, at 3:45 P.M, Ilissa will participate on the panel "Raising your prices without losing your customers" alongside other industry leaders. This panel will address how to raise prices while still keeping the customers and what messaging should be used in communication to these customers. Additionally, panelists will touch on what strategies to follow and how to handle increases across all customers.
What:
Where:
Kentucky International Convention Center, 221 S 4th St, Louisville, KY 40202
When:
Wednesday, March 8, at 3:45 P.M. to 4:45 P.M. EST
Who:
Panel members include:
Moderator:
Jeff Brown, Senior Director, Segment Marketing, Calix
# # #
About iMiller Public Relations
iMiller Public Relations (iMPR) is an award-winning, global consulting and PR firm focused on the communications infrastructure sector inclusive of data center, internet, telecom, and technology companies. iMPR's core strengths include strategic counsel, press releases, content and placement, media and analyst relations, award and speaking, brand messaging, and media training.  Combining a dynamic suite of public relations capabilities with unparalleled industry expertise, iMPR delivers game-changing campaigns for companies that collectively represent more than $100 billion in annual revenue. iMPR is the operating arm of NEDAS grassroots association focused on wireline and wireless convergence.  To learn more about iMPR, visit www.imillerpr.com.
Media Contact
Jake Curtacchio
iMiller Public Relations
Tel:  +1.866.307.2510
Email: pr@imillerpr.com