Europe's largest carrier meeting to take place in Paris from 2nd – 4th November
London, 7th October 2015 – Eight of Forbes' top 10 telecoms companies in the world are due to attend Capacity Europe 2015 – the largest carrier meeting in the region.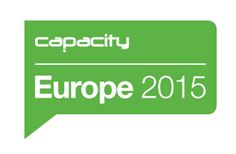 AT&T Partner Solutions, China Mobile, China Telecom, Deutsche Telekom ICSS, NTT Communications, Telefónica Global Solutions, Verizon Partner Solutions and Vodafone Carrier Services will be among over 1400 attendees representing 380 companies at Capacity's biggest event to date.
The European telecoms market is one of the most established communications markets in the world. However, despite it once being a leader in new technologies, a report by the European Telecommunications Network Operators' Association has found that both North America and Asia have much higher LTE and fibre penetration. The need for international and local companies to collaborate to extend their reach in the highly fragmented regional telecoms market has therefore increased in the past years.
C-level Conference on the Industry's Trending Topics
Capacity Europe brings together carriers, data centres, terrestrial and submarine cable companies, OTTs and enterprises to develop partnerships and discover new revenue streams. Over the course of three days, the event offers access to over 140 exhibition booths, meeting rooms, meeting tables and a C-level conference. Speakers at the event include senior-level executives from BT Global Services, HSBC, Netflix, Orange, Sony, Telecom Italia Sparkle, Teliasonera and many more.
"Capacity Europe is the ultimate platform for first-hand information exchange on the latest achievements, biggest challenges and riveting opportunities for the wholesale telecom industry," said Cengiz Oztelcan, CEO of Türk Telekom. "It provides an excellent mix of valuable panel discussions, presentations and networking opportunities."
Celebrating Excellence and Innovation
To celebrate the event's 15th anniversary, the opening keynote will be given by Michel Combes, Group COO of Altice and Chairman of Numericable-SFR. Combes will discuss how developments in telecommunications and technology can be united, ultimately giving an insight into the end-user of tomorrow. Capacity Europe 2015 will also host the first ever Advancing Women in Telco session which will feature a panel of experts offering advice on how to navigate the social dynamics of the telecoms industry.
Alongside Capacity Europe, Paris will host the Global Carrier Awards on 3rd November. The Global Carrier Awards 2015 will bring together the industry's leading names to celebrate innovation and excellence in the wholesale telecoms marketplace.
Capacity Europe takes place on 2 – 4 November in Paris and is organised by Capacity Conferences. For more information about the event, visit www.capacityconferences.com/Capacity-Europe.